Books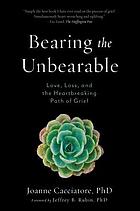 Cacciatore, Joanne. Bearing the Unbearable: Love, Loss, and the Heartbreaking Path of Grief. Wisdom Publications, 2017.
This book packs a powerful punch. For those who have experienced loss, some sentences will take the reader's breath away because Dr. Cicciatore captures the essence of the pain of grief. Our culture sanitizes grief and expects people to pack those negative feelings away quickly – that is, if the grief wasn't misunderstood and the person did not have a chance to have their mourning accepted by others (this is called disenfranchised grief). The book reads like a daily devotional with succinct chapters only between one-three pages. The short chapters, however, belie the powerful support and messages on grief "Jojo" Cacciatore gives. One profound message is that love and grief coexist, so because we have deep grief it is because of deep love. Another is that truly facing grief requires courage that, while we would never have chosen the grief, we can use it to become more empathetic people. Dr. Cacciatore also vulnerably shares her intimate knowledge of grief that has inspired her professional, service-oriented life helping others with their grief. Some of the coincidences that she has encountered seem nothing short of miraculous. This is truly a beautiful book for sharing in the humanity of grieving.
Articles
Most of these articles are going to be free online (ie, Open Access). If the article is not freely available, I will indicate that. In that case, check with your local librarians! Please first ask your librarian at your local library before buying online – many times you can get an article at no cost through one of your library's databases or interlibrary loan.
Benoit, Sophia. "How to Support Your Partner When They're Grieving." CQ, 26 Feb. 2020, https://www.gq.com/story/how-to-support-your-partner-through-grief
Brody, Jane E. "Understanding Grief." New York Times, 15 Jan. 2018, https://www.nytimes.com/2018/01/15/well/live/understanding-grief.html
Drucker, Ali. "9 Ways Therapists Personally Deal with Grief." Huffington Post, 24 Jan. 2019, https://www.huffpost.com/entry/grief-therapist-tips_n_5c4889b0e4b025aa26bf276c
MacCutcheon, Megan. "Intention Isn't Everything: 7 Ways to Inadvertently Invalidate Feelings." Good Therapy, 25 Oct. 2017, https://www.goodtherapy.org/blog/intention-isnt-everything-7-ways-to-inadvertently-invalidate-feelings-1025175
Pearl, Reaca. "11 Things That Will Help You Hold Space for Someone." Good Therapy, 23 May 2017, https://www.goodtherapy.org/blog/11-things-that-will-help-you-hold-space-for-someone-0523175
Sparrow, Laura. "We Will Grieve Forever Because We Love Forever." The Gottman Institute Blog, 16 Apr. 2018, https://www.gottman.com/blog/we-will-grieve-forever-because-we-love-forever/
Trotter, Jonathan. "Outlawed Grief." The Gottman Institute Blog, 6 Nov. 2019, https://www.gottman.com/blog/outlawed-grief/
Disclaimer: This site is informational only and its resources are not substitutions for professional therapy. If you need professional help, see the Find a Therapist page to locate a qualified mental health professional.