Books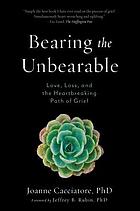 Cacciatore, Joanne. Bearing the Unbearable: Love, Loss, and the Heartbreaking Path of Grief. Wisdom Publications, 2017.
This book packs a powerful punch. For those who have experienced loss, some sentences will take the reader's breath away because Dr. Cicciatore captures the essence of the pain of grief. Our culture sanitizes grief and expects people to pack those negative feelings away quickly – that is, if the grief wasn't misunderstood and the person did not have a chance to have their mourning accepted by others (this is called disenfranchised grief). The book reads like a daily devotional with succinct chapters only between one-three pages. The short chapters, however, belie the powerful support and messages on grief "Jojo" Cacciatore gives. One profound message is that love and grief coexist, so because we have deep grief it is because of deep love. Another is that truly facing grief requires courage that, while we would never have chosen the grief, we can use it to become more empathetic people. Dr. Cacciatore also vulnerably shares her intimate knowledge of grief that has inspired her professional, service-oriented life helping others with their grief. Some of the coincidences that she has encountered seem nothing short of miraculous. This is truly a beautiful book for sharing in the humanity of grieving.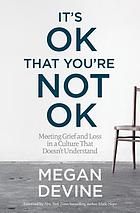 Devine, Megan. It's OK that You're Not OK: Meeting Grief in a Culture That Doesn't Understand. Sounds True, 2017.

Devine was a therapist who was looking to leave the career when her young, healthy husband unexpectedly drowned on a clear July day. The grief training and knowledge she'd accumulated lost its grip. It was insufficient, incomplete, and starkly paled to the pain and loss she actually felt. Her heart was broken. Abandoned by many either through attrition or invalidating comments and urges for her return to normalcy ("move on", "he wouldn't want you to be so said"), Devine set out first on request to find the authentic support she really needed as a griever. Then, she set out to create a community where grievers could seek solace away from society's mishandling of grief. Grief, which society does its best to avoid and deny because grief isn't wanted, is the flipside of love, which is often desperately wanted and sought. We can't have one without the other in our human condition, yet our platitudes and even mental health care system revolt against too much grief. It isn't healthy or normal or natural as our state. And yet, if we are social creatures who seek proximity to others and connection, of course when that love is lost our hearts are going to be broken. Denying our heartbreak and attempting to "fix it" quickly rather than integrate it into our life story cripples authentic connection. Grievers often feel dismissed, misunderstood, and a burning but unspeakable range at the often well-meaning but often unhelpful platitudes and attempts to solve the "problem" of grief to normalcy as soon as possible. Devine shares a lot of unhelpful comments and dynamics grief brings out in people who are trying to help. She acknowledges the scattering of people who were thought of as dependable friends or family. Grief pain can be similar to retraumatization. The original grief is the loss of a loved one, and the exponential grief is the network who turn away. She also spends a lot of time emphasizing how our society's "fix it" mentality has saturated even the mental health field and how Elisabeth Kubler-Ross's herself before her death regretted how her five stages of grief have been overly adhered to as linear law when they are meant to be fluid guides in understand how people process grief. That some things just are awful and unfixable is another validating main message. There are not always silver linings. Being thrust into an unwanted life with a loss does have benefits that outweigh the cost. There are things, that while happen because we are mortal beings, should not have had to be endured, and no amount of meaning-making justifies the price of what was lost. Devine divides the book into four parts. She opens by explaining how broken society's model of grief is and describes just how brief affects us physically, cognitively, and emotionally (and society curtains away that is appropriate that we are so changed). She distinguishes between grief and abject suffering and educates readers on how to be in grief but avoid the latter as we seek integration for our loss. The last half of the book, parts three and four, focus on how to understand and work with family and friends who are trying to be helpful even if they say or do things that hurt. This book uses accessible chapters and comes in short chapters, which is a blessing for grieving readers who are having trouble concentrating. While Devine focuses her book and work on a narrow band of grief as a result of death, readers may be feeling other losses that produce grief: unmet expectations, job losses, ending of a friendship, etc. While specifically targeting those grieving from a death, this book would also validate readers experiencing other non-death grief with understanding how normal it is to feel the world shift on its axis as well as how normalize pain from unhelpful behaviors by the support network.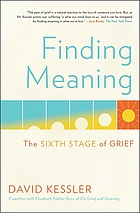 Kessler, David. Finding Meaning: The Sixth Stage of Grief. Scribner, 2019.

Loss separates a before and after, and there is no undoing of loss as it relates to death. People can't escape loss, but, according to grief expert David Kessler, people have a choice in how they live and create meaning with loss. Kessler is emphatic that creating meaning does not negate, minimize, dismiss, or slap a veneer of positivity on gut-wrenching bereavement. Death does not end a relationship; it only changes it, and the meaning people make of that shift is theirs for the making and accepting. Kessler has every reason to teach readers about grief, both professionally and personally. Protégé of Elisabeth Kubler-Ross, he co-authored On Grief and Grieving with her about the five stages of loss: denial, pain, anger, depression, and acceptance. In popular culture these have morphed into linear stages rather than the more fluid cluster of feelings Kubler-Ross herself intended. Kessler has spent his life helping others about grief, and personal grief enveloped him both before and during his professional career. Kessler has lost many who are (present tense intended) dear to him and loved by him. Finding meaning equips us to live life after loss and live with zest for life while also acknowledging the reality that an awful thing happened that we never wanted to happen. Life is absolutely fatal, and its time-limited nature has the power to imbue our life with incredible meaning if we let it. Finding meaning isn't dismissing our loved ones or being okay that they died or saying that their death was meant to be so we could learn a given lesson; rather, our relationship to our deceased loved one has shifted, and we spend our own time sitting with and seeing what that fact means to us. Finding Meaning may jostle and even hurt readers early in grief. Being told it's time to find meaning may come across as a "pick yourself up by your bootstraps" mentality that is dismissive or unsupportive early on. However, readers who have been grieving a long time ("long time" and our culture throws that around disparagingly) and feel like they want to honor and hold their loved one tight while tip-toe toward an integrated life may especially find this book valuable. Also, those who want to remember their loved one while accepting the past and honoring their loved one's memory through conscious acts. Many grievers including Kessler, who experienced loss and found ways for it to make sense to them, appear in Finding Meaning in their own words. People speak of losing spouses, siblings, parents, and children. Some of these relationships were complicated, with unfinished business and survivor's guilt, and they found meaning in sharing their story with others, charity work, and acts of service (in some cases, the service never involved telling their intimate relationship to the cause). People's hearts break, and they learn to decline to punish themselves for a loss they are not responsible for. People admit if they would have wanted their loved one to live a good life after their death if it had been them to go first, then surely it is not a betrayal of the loved one to build a new life of acceptance where joy is had. People learn to enjoy their "love burst" memories of their loved one, while accepting and sitting alongside the "grief bursts". Ultimately, all of these people impart Kessler's message: that grief is awful, it hurts very badly, and it is what it is. It is the flipside of love. We can't escape grief if we are human. However, through lots of life events, including death, we look for meaning which has correlates with life satisfactfaction and happiness.
Articles
Most of these articles are going to be free online. If the article is not freely available, I will indicate that. In that case, check with your local librarians! Please first ask your librarian at your local library before buying online – many times you can get an article at no cost through one of your library's databases or interlibrary loan.
Benoit, Sophia. "How to Support Your Partner When They're Grieving." CQ, 26 Feb. 2020, https://www.gq.com/story/how-to-support-your-partner-through-grief
Brody, Jane E. "Understanding Grief." New York Times, 15 Jan. 2018, https://www.nytimes.com/2018/01/15/well/live/understanding-grief.html
Drucker, Ali. "9 Ways Therapists Personally Deal with Grief." Huffington Post, 24 Jan. 2019, https://www.huffpost.com/entry/grief-therapist-tips_n_5c4889b0e4b025aa26bf276c
MacCutcheon, Megan. "Intention Isn't Everything: 7 Ways to Inadvertently Invalidate Feelings." Good Therapy, 25 Oct. 2017, https://www.goodtherapy.org/blog/intention-isnt-everything-7-ways-to-inadvertently-invalidate-feelings-1025175
Pearl, Reaca. "11 Things That Will Help You Hold Space for Someone." Good Therapy, 23 May 2017, https://www.goodtherapy.org/blog/11-things-that-will-help-you-hold-space-for-someone-0523175
Sparrow, Laura. "We Will Grieve Forever Because We Love Forever." The Gottman Institute Blog, 16 Apr. 2018, https://www.gottman.com/blog/we-will-grieve-forever-because-we-love-forever/
Trotter, Jonathan. "Outlawed Grief." The Gottman Institute Blog, 6 Nov. 2019, https://www.gottman.com/blog/outlawed-grief/
Disclaimer: This site is informational only and its resources are not substitutions for professional therapy. If you need professional help, see the Find a Therapist page to locate a qualified mental health professional.